Design, build, furnish
Hello, I'm Matt Haley, owner of Matteo and Company. I'm a Master Carpenter, General Contractor and the person who you'll be working with from the beginning of your project through to completion.  I'll be at your home, not only working as the contractor managing the flow of trades but also as a master carpenter ensuring that each piece is perfectly placed.
My passion for woodworking and high-end custom home building began when I started my career apprenticing at my uncle's high-end cottage building company in Muskoka.  Under the guidance of my uncles, I honed my craft and explored the intricacies of high-end cabinetry design, custom home building, and timber frame buildings, learning how to blend creativity, design, and function.
I've built a team of eight master carpenters and skilled woodworkers who share my attention to detail and passion for creating beautiful, custom, high-quality products. We have our own wood shop where we build our cabinetry, doors, trim and other millwork. To us, it's is about the little things – whether that's choosing a beautiful piece of wood, or thinking through where the best morning light is going to be.  That's what really makes your project come to life. We use only the highest quality materials and we pair them with creative and innovative design, practical functionality, and exceptional craftsmanship.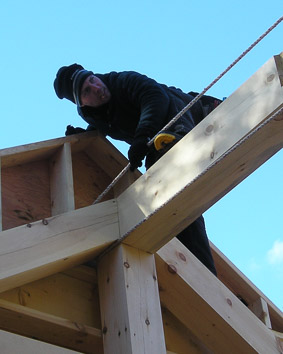 In 2012 we were proudly accepted as a Baeumler Approved Contractor. The Baeumler Approved logo is a symbol of contractor integrity, quality, and service.
Baeumler Approved Contractors demonstrate a history of quality work and customer satisfaction through a screening process that audits:
Customer feedback regarding quality of work, level of service, pricing, follow up, and communication

Collaborating trades feedback ensuring safety compliance, quality of work, and job site communication

A complete on-line history of referrals, testimonials, and complaints

Insurance coverage of at least $1,000,000

Workers compensation coverage

Professional Certifications